Google offers Android 'N' sneak peek for developers
With a new split screen feature, improved battery life, and better notifications Google's unnamed Android update, referred to as Android 'N', is showing marked improvement in the race versus it's competitors. The 'N' should be replaced with the name of a delicious snack when the system is officially released, likely later this year. The current version is known as Marshmallow. The early release is targeted to developers to allow them to provide input prior to the release date. It is available on some Nexus Devices including the Nexus 6P, 5X, Pixel C, and Nexus 9.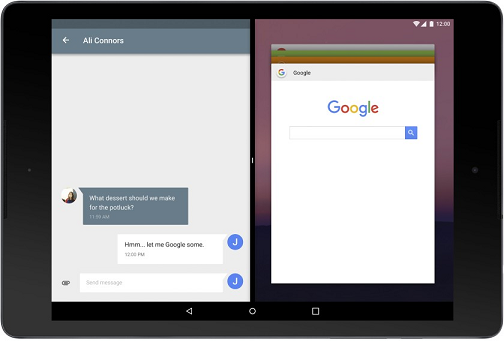 To conserve battery life Android N will tack the Doze feature to the next level, initiating it sooner while also limiting the power consumption of background tasks. The split screen feature, already incorporated into iPad and Windows, gives users the ability to share screen space among multiple apps. You can now continue watching a video uninterupted while answering a quick email checking in on another app. Android N has also expanded the functionality of notifications by allowing you to respond directly with a typed message from the notification. Previously these activities were more limited to things like playing or deleting an item. Multiple notification from a single app will be bundled together and can be expanded by the user.

Every version of Android after the initial Alpha and Beta have come bearing the name of a tasty treat. Previous versions include Cupcake, Donut, Eclair, Froyo, Gingerbread, Honeycomb, Ice Cream Sandwich, Jellybean, KitKat, Lollipop, and Marshmallow. Internally N has been refered to as New York Cheesecake but typically the internal codenames and final version are different.